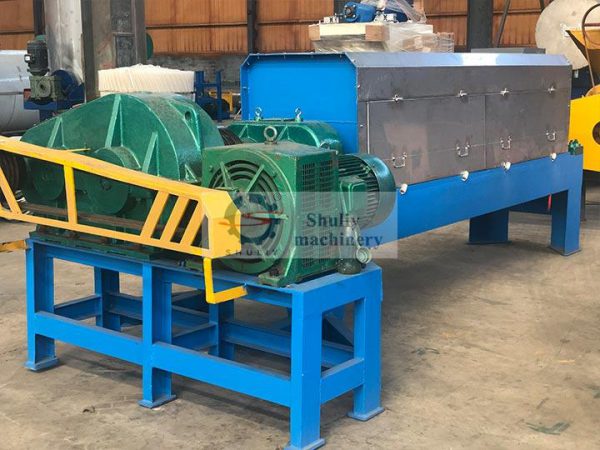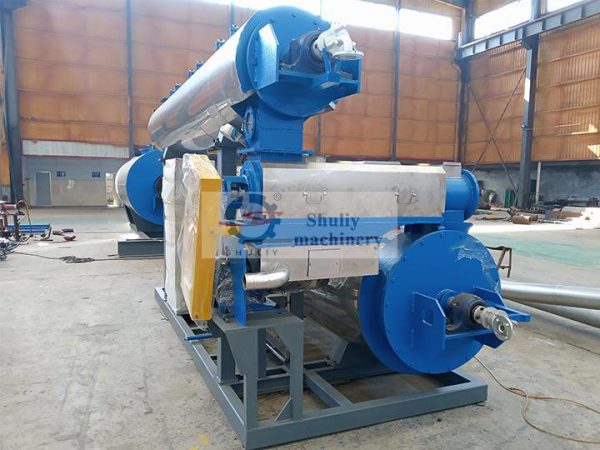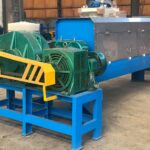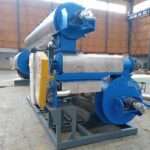 This fish squeezing machine, as well as the fish screw press,  is the common type of screw press for dewatering the stewed fish pieces and separating the fish meal and the fish oil liquid. The screw-type fish dewatering machine is a piece of very important equipment for making the fish meal in the fishmeal production line. This fish processing machine is common used in the wet processing method for fishmeal making.
Description
The cooked fish juicer machine also named screw press juicer machine or the dewatering machine, except using in the fish powder production line, it can also be widely used in many fields, such as vegetables and fruits juice making, kitchen waste and sludge dewatering, sawdust and vinasse dewatering and so on.
During the fish processing line, the purpose of the fish press machine is to squeeze out as much liquid as possible from the stewed fish. This is important not only to improve the fish oil yield and the quality of the fish meal but also to reduce the moisture content of the wet fishmeal as far as possible, thereby reducing the fuel consumption of the fishmeal dryer machine and increasing its capacity.
With the reasonable and compact structure, this screw press is mainly composed of the fish pieces inlet, the inner twin-screw structure, the screen mesh, the frame body, the stainless steel outer shell, geared motor, and the electrical control system. All these parts can be made of high-quality SUS 304 stainless steel to ensure its long service life.
The screen mesh for sieving out the liquids can be replaced with different specifications of the sieve holes. Besides, it can be set with a forced feed plate device for fast feeding, which can move the spiral forward, speed up the feeding, and prevent the counter and spiral from slipping.