Peanut Brittle Production Line | Peanut Chikki Cereal Bar Making Machine
Description
Reviews (0)
Peanut cereal bar making plant
Description
This peanut brittle production line could process rice, peanut, cashew nut, almond, sunflower seeds, sesame. It includes sugar melting, mixing, cutting, and packaging. Customers could also require to add pre-process equipment of red skin peanuts. There are two processing lines, peanut cereal bar plant and puffed rice cake plant. The cereal bar produced by this production line is delicious and healthy.
Introduction of peanut brittle
Peanut candy is a traditional snack, made with clean peanuts and sugar. Peanut brittle is sweet, crisp, one of the most popular foods among consumers. According to different cooking methods, peanut brittle is also divided into butter peanut brittle and sesame peanut brittle. Puffed rice cake is sweet and delicious, with a delicate fragrance of rice, mainly made with glutinous rice and white sugar.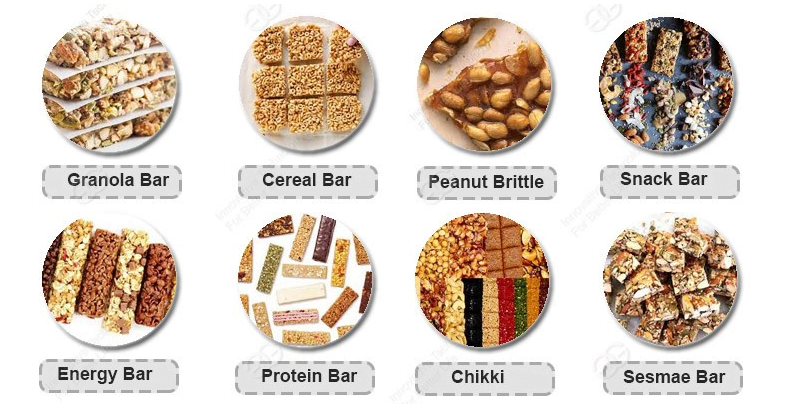 Peanut cereal bar making plant
The peanut brittle production line includes a sugar melting machine, mixing machine, elevator, peanut candy cutting machine, packaging machine. It could produce large amounts of peanut cereal bars. And customers could also choose to add peanut roasting and peeling machines before the sugar melting machine. This peanut brittle processing plant is highly efficient, energy-saving, and automatic.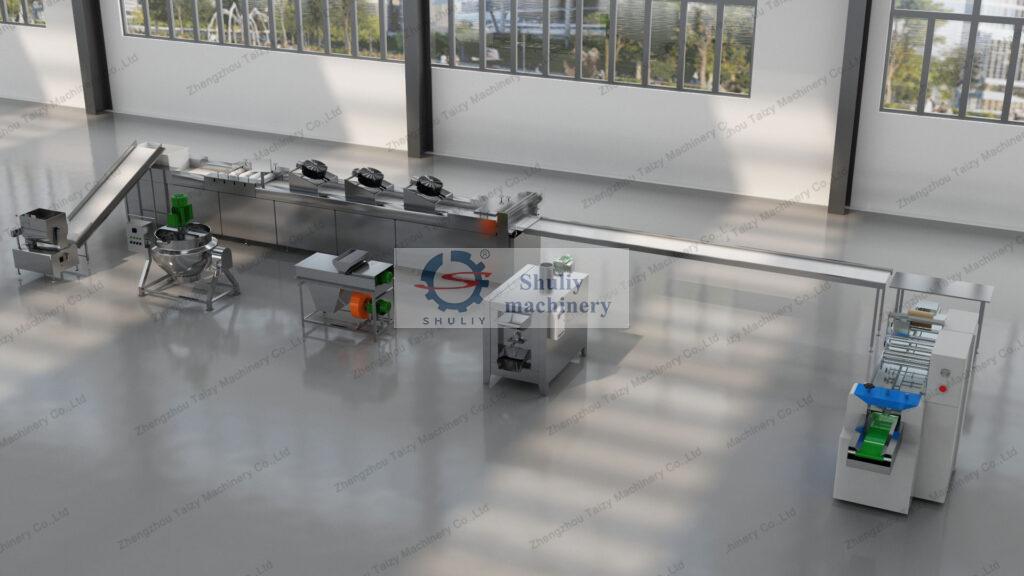 Sugar melting pan
Voltage: 415V/50Hz Pot
Diameter: ∮840mm
Volume:200L
Weight :300kg
Size: 1470*905*1400mm
Capacity:100KG/pot
Heating method: electricity, steam gas, liquor gas, natural gas
Power:21.5kw
The sugar-boiled pot can steam, boil candy and extract, concentrate Chinese medicine. It can also be used to make honey pills in practice. It applies to hospitals, laboratories, research institutes, can also be used in confectionery, beverages, canned food processing units. The worker could add a gas stove directly under the pan to heat sugar.
sugar melting machine could adjust angle
jacketed pot without mixing function
machine details
machine structure
The sugar mixing machine has two features.
Automatic discharge type
Manual operation type
Features
adjust the angle of the machine,
mix materials
fixed angle,
without mixing function
Control Method
with a handle,
with a motor
without handle, manually taking out materials
without motor
With high heating efficiency, the liquid material boiling time is short. It is easy to control the heating temperature.
Peanut sugar mixer machine
Voltage:380V/50HZ
Power:1.1kw
Size:700*800*1200mm
Capacity:10KG/once
This mixing device is used to stir roasted peanuts, melting sugar, and other materials. It is equipped with an elevator to lift mixed materials to the molding machine. And this mixer is fitted with a thermostat, so the temperature is easy to control. This pot has double layers, with an insulation effect. Customers could set the stirring time.
Elevator conveyor
Power:0.37kw
Voltage:380V/50HZ
Size:2500*820*1080mm
The surface of this equipment is stainless steel. The purpose of the conveyor is to lift the mixed material to the automatic molding machine.
Peanut brittle molding and cutting machine
Power:2.2kw
Voltage:380V/50Hz
Length:11.8m
Conveyor width: 560mm
Capacity:400-500kg/h
The peanut chikki pressing cooling cutting machine is composed of 4 pressing rollers, a cooling conveyor, 3 cooling fans, a cross-cutting blade, slitting blades.
machine structure
Lift the mixed peanuts, and other materials through the hoist to the molding machine.
4 pressing rollers press the materials.
The cooling fans then cool the temperature down.
Cooled materials will be conveyed into the cutting area.
The cut materials enter the next stage through the conveyor belt for automatic packaging.
The pressing rollers could adjust to fit requirements. The rollers decide the thickness of peanut brittle.
chain connect
cross blade
slitting blade
Customers could change the speed of the cross cutter to change the length of the final peanut brittle. And the slitting blades can be customized according to demands. The customer provides a width of the final products, and we will match suitable slitting blades. And the slitting blades cannot be adjusted in practical operation. If customers need to update the slitting blades, it usually changes a set of blades.
Cereal bar packaging machine
Voltage: 220V
Power: 2.5kw
Packing speed: 50-300pcs/min
Packing length: 50-300mm
Packing width: 50-310mm
Packing height: 5-60mm
Size: 3800*780*1500mm
This machine is suitable for packing sachima, moon cake, biscuits, bread, pie, instant noodles, candy, and other foods.