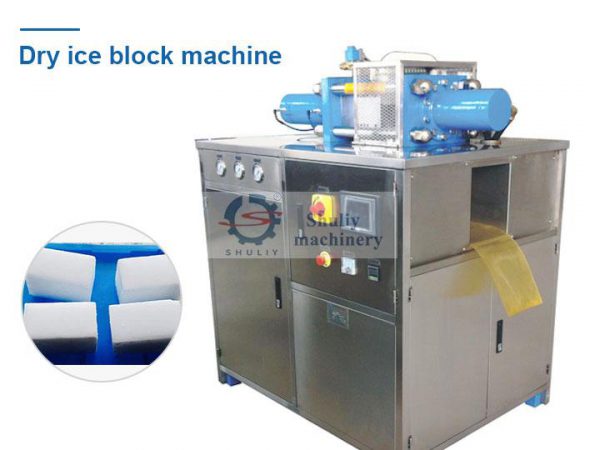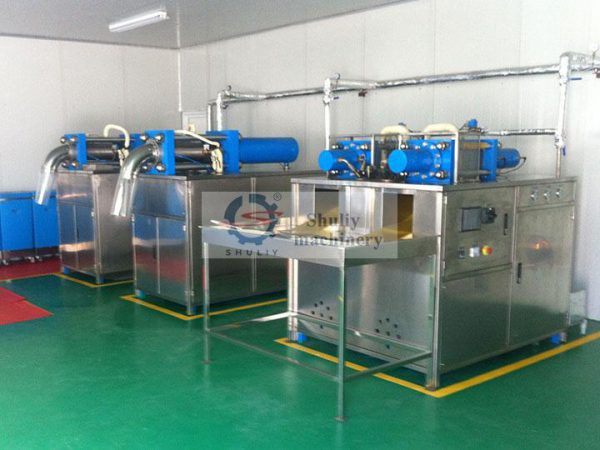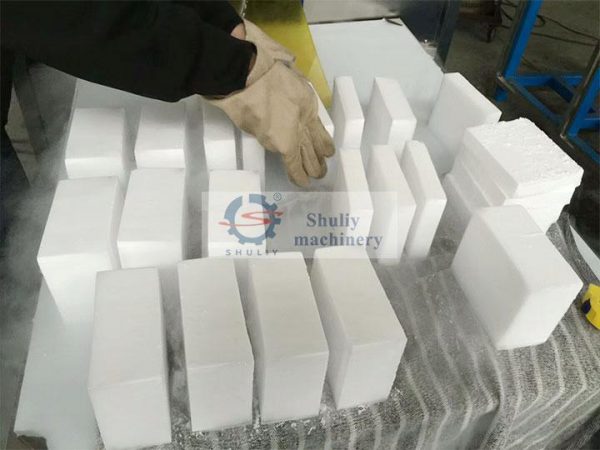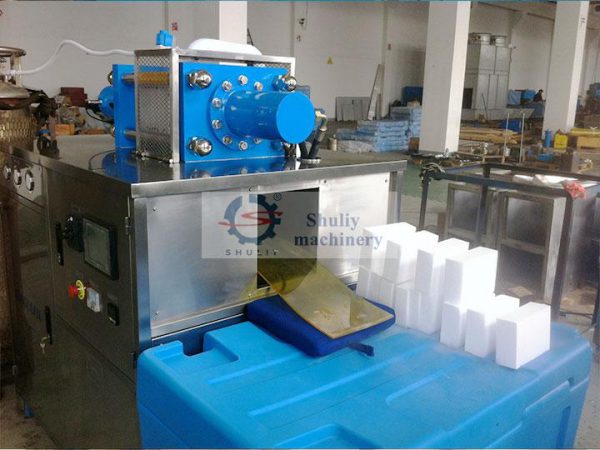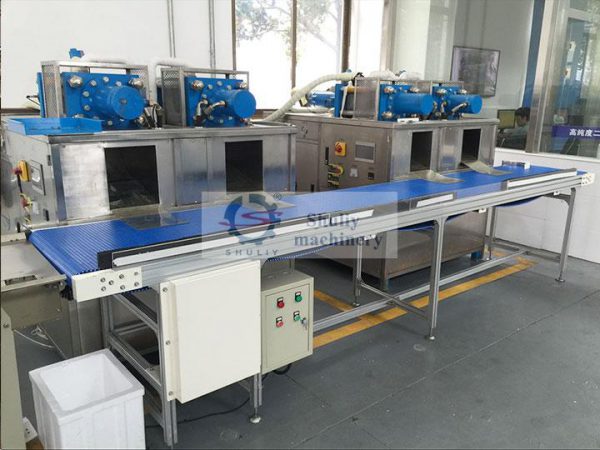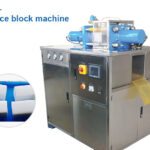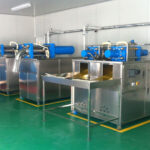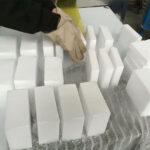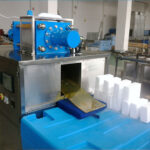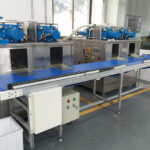 The dry ice block machine is mainly used to compress liquid carbon dioxide into dry ice blocks with high density by certain hydraulic pressure. The main structure of the dry ice block machine includes the inlet, outlet, compression box, hydraulic system, feed pipe, solenoid valve, motor, exhaust pipe, extrusion die, electric cabinet with PLC control screen, etc.
Description
Reviews (0)
Parameters
Video
Description
The dry ice block machine has high working efficiency in making dry ice blocks. It can be many types and models. In general, the larger the output of the dry ice block machine, the larger its size will be. Its output ranges from 120kg/h to 1000kg/h, and the size and shape of the dry ice blocks can be adjusted according to the type of machine. Usually, the thicker the dry ice produced, the greater the yield of the machine.
The dry ice block can be widely used in many fields, especially for use in food and drug refrigeration and transportation, aviation catering, cold chain transportation, cold storage refrigeration, and so on. When the dry ice blocks are made, we can use the dry ice heat preservation box to keep them at a low temperature.
| | | | | |
| --- | --- | --- | --- | --- |
| Model | SL-100-1 | SL-100-2 | SL-500-1 | SL-500-2 |
| Motor power(kW) | 7.5 | 2×7.5 | 13.5 | 2×13.5 |
|  Dry ice block size(mm) | 125×105×(20-60) | 125×105×(20-60) | 250×140×(50-210) | 250×140×(50-210) |
| Output(kg/h) Min  Max | 120  185 | 240  370 | 300  500 | 600  1000 |
| The density of the dry ice block(t/m³) | ≥1.48 | ≥1.48 | 1.3-1.50 | 1.3-1.50 |
| CO₂ transformation rate | 40%-43.5% | 40%-43.5% | 40%-43.5% | 40%-43.5% |
| Liquid inlet pressure(Mpa) | ≤2.1 | ≤2.1 | ≤2.1 | ≤2.1 |
| Liquid inlet diameter(mm) | DN10 | 2-DN10 | DN20 | 2-DN20 |
| Exhaust pipe diameter(mm) | DN50 | 2-DN 50 | DN70 | 2-DN70 |
| Fuel tankage(L) | 280 | 280 | 280 | 400 |
| Overall dimension(cm) | 140×110×170 | 160×140×170 | 270×110×180 | 270×150×180 |
| Weight (kg) | 1200 | 1600 | 2300 | 4500 |
| | | | | |
| --- | --- | --- | --- | --- |
| Model | SL-650-1 | SL-650-2 | SL-500-1L | SL-650-1L |
| Motor power(kw) | 13.5 | 2×13.5 | 11 | 11 |
|  Dry ice block size(mm) | 300×255×(50-260) | 300×255×(50-260) | 250×140×(50-210) | 300×255×(50-260) |
| Output Min  Max | 400  650 | 800 1300 | 300  500 | 400 650 |
| The density of the dry ice block(t/m³) | ≥1.45 | ≥1.45 | 1.3-1.52 | 1.3-1.52 |
| CO₂ transformation rate | 40%-43.5% | 40%-43.5% | 40%-43.5% | 40%-43.5% |
| Liquid inlet pressure(Mpa) | ≤2.1 | ≤2.1 | ≤2.1 | ≤2.1 |
| Liquid inlet diameter(mm) | DN20 | 2-DN20 | DN20 | DN20 |
| Exhaust pipe diameter(mm) | DN70 | 2-DN70 | DN70 | 2-DN70 |
| Fuel tankage(L) | 280 | 400 | 320 | 320 |
| Overall dimension(cm) | 290×110×190 | 290×160×190 | 250×110×170 | 250×110×170 |
| Weight (kg) | 2800 | 5200 | 2100 | 2600 |
https://youtu.be/Kem0ENVcZO0